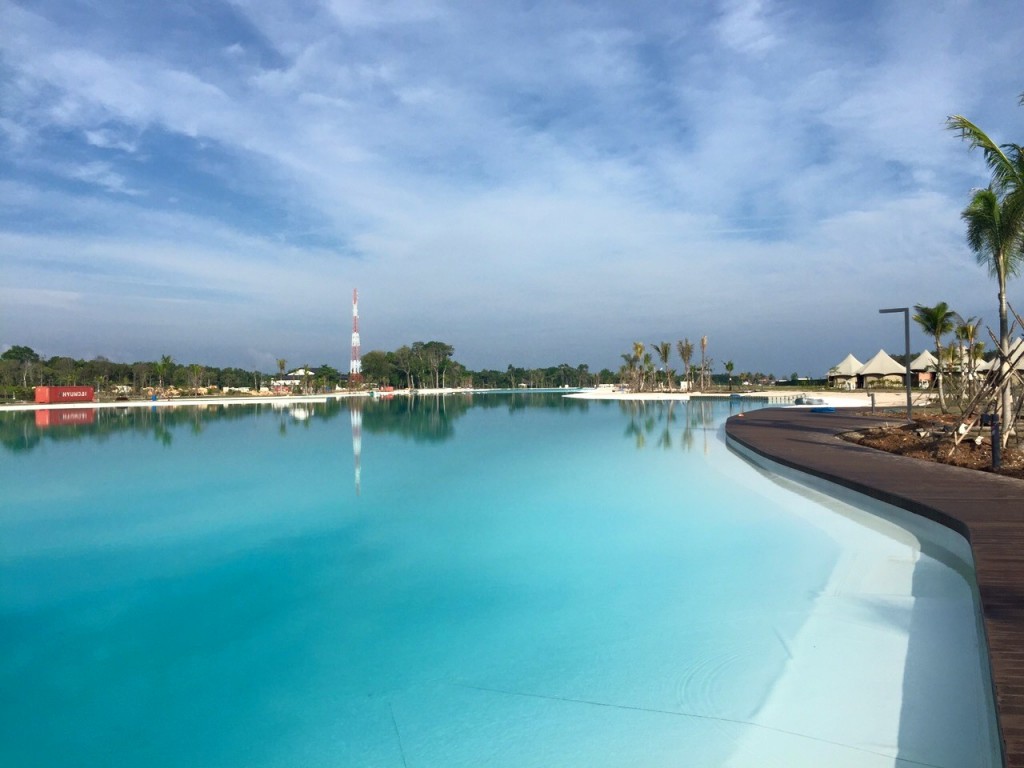 Treasure Bay Bintan, locate on an Indonesia island, is a 338 hectare waterfront resort situated just 1 hour ferry ride away from Singapore. The destination resorts integrates leisure, wellness, world-class accommodation and is definitely a resort destination for many families and travellers. It also offers many first-in-Asia, including it's iconic 6.3 hectare, 740m in length, Crystal Lagoon.
This Bintan resort emphasise on giving their guests new and WOW experiences during their every visit and hence had it's resort development planned over three phases. Phase one spans over 90 hectares and covers the Southern & Northern Precinct. Southern Precinct is designated as the active and "happening" spot to embrace the beach lifestyle with diverse products, experiences and services surrounding their iconic 6.3 hectares Crystal Lagoon. This lagoon is right smacked in the middle of the resort and also the first in South-East Asia. Guests will be able to enjoy the clean, crystal clear waters in a controlled environment with lifeguard supervision. There are also many water activities running in the lagoon with the highlights being a wake park and also the Jetovator / Flyboard ride.

The Crystal Lagoon in Treasure Bay Bintan is the largest recreational sea-water body that has undergone filtration process to make the sea-water crystal clear, something that we do not have the luxury to have within such short journey from Singapore. The lagoon is situated inland and is not affected by tidal waves or monsoon and hence, it's perfectly safe and swimmer friendly, free of bugs, jelly-fishes or rocks.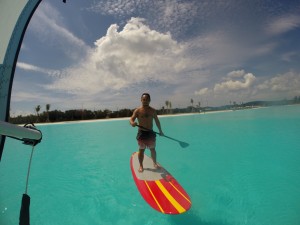 The lagoon also offers a wide spread of fun and interactive water activities organised by The WOW Experience. They include Stand Up Paddle, Underwater Scooters, Kayaking, Water ZOVBing and many more. Apart from basking in the sun and engaging in activities with friends and family, Treasure Bay Bintan also offers a beach bar, Bora Bora, where they serve international and local food and drinks. Guests also book Cabanas by the fringe of the beach bar for the day. Treasure Bay Bintan is definitely a vibrant, exciting social hub that has something for everyone!
Not only can you have fun and chill around the lagoon, Treasure Bay Bintan also offers the first of it's kind accommodation. Imagine staying in a luxury tent by the lagoon with hotel style fitting at its finest. This is Treasure Bay's way of pampering every guests that comes to stay in their in-house resort, The Canopi. This resort aims to provide a whole different experience when it comes to accommodation in Bintan Island. Some rooms even offer you a personal Jacuzzi right at your doorstep! You just have to try it to believe it!
Fast Facts and figures about Crystal Lagoon in Treasure Bay Bintan
3 hectares , largest lagoon in South-East Asia with  115,060m3or 115,060,000 liters
1stin South East Asia
Patented and available in 160 countries
Eco-friendly technology, uses approximately 100 times less chemical products than conventional swimming pools
Energy efficient, consumes only 2% of the energy needed by conventional filtration pools
Crystal Lagoon's innovative technology is sustainable and safe for the environment, allowing limited resources such as energy and water to be used efficiently. The lagoon operates in a closed circuit that only needs to compensate for water loss caused by evaporation
Apart from sports and recreation, guests will also be able to shop and dine in The Trove. There are a wide variety of retail shops and F&B outlets in the 2 storey building, located just by the Arrival Entrance of Treasure Bay.