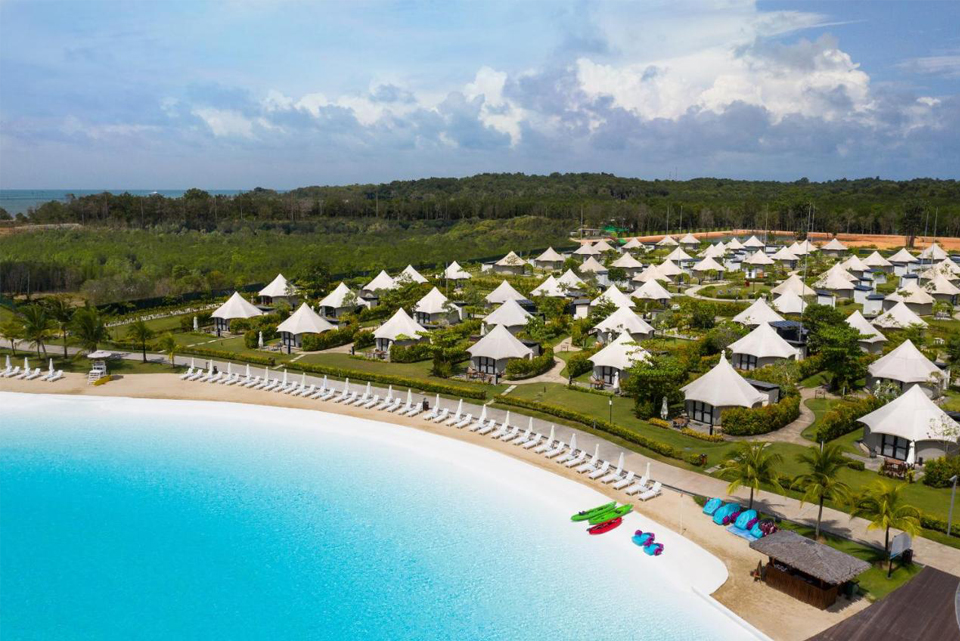 Natra Bintan, A Tribute Portfoilo Resort
Chirping birds, check. Adventure trail, check. 4-poster bed, check. Melted marshmallows over a campfire, check!
Welcome to the world of Glamping – glamorous camping. At the crossroads of luxury and the wilderness lies Natra, nestled amidst the lush greens and forestry of Bintan. Natra offers campers and adventure-seekers the best nature has to offer, yet all the comforts and indulgence befitting an 18th Century colonial explorer. The 2-hectare Natra resort boasts of a 338-hectare adventure ground that includes a private mangrove river, the sea and a spectacular 6.3-hectare saltwater Crystal Lagoon.
Within Natra you'd find a 100-Tent Suite resort complete with modern luxuries; spa, meeting rooms and all day dining facilities. Natra offers the best balance between the outdoor lifestyle and the in-room comfort sophisticated modern travellers are seeking. There is so much to see and do. Whether you are a couple seeking a little bit of romance or a family looking for adventure, Natra will be a rewarding holiday experience.
Safari tent-suites come with the modern day spoils of air-conditioning and other comforts and conveniences such as 4-poster beds, LCD televisions, indoor & outdoor jacuzzi, BBQ pits, sisal carpets and complementary Wi-Fi. Each Safari Tent-Suite is more than 400 sq feet and comes en-suite with your own private garden where you can lie in a hammock, start a campfire supper, and star gaze the night away.
Natra Bintan is a one-of-a-kind experience with an extremely unique accommodation, juxtaposed with thrilling adventures. It's that little break from the hustle and bustle. It's a moment by yourself. It's that chance to make a closer interaction with Nature. Be adventurous, be secluded, be daring, be free – Adventure Glamping lets you do all of that and more.
Join the fastest growing trend – Go Glamping.