There is always an activity for everyone in Treasure Bay Bintan. The attraction of the clean, clear water in the Crystal Lagoon is by itself a big draw and reason for visitors to spend a whole day in this property. What's more, we also have a wide variety for activities to keep you busy and occupied while you are here.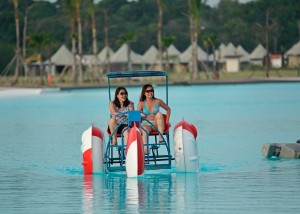 If you prefer to chill and take it easy, you can ride on the water tricycle or the bumper boat while you enjoy the view from the centre of the lagoon. For adrenaline junkies, rest assured that we have more than enough activities to drain all your energy by the end of the day. You can challenge your mates on the water sports park obstacle course, get on a ride on the Jetovator and fly above the water or to test your skills on a board in the wake park located on the other end of the lagoon!
Most of the Bintan water sports activities are operated by The WOW Experience and you can get to choose or combine activities at attraction rates! Some of the water sports that you can find on the lagoon includes:
Jetovator Ride
Water Sports Park
Water ZOVBing
Aqua Glide Sailing
Water Tricycle
Bumper Boat Ride
Stand Up Paddle
Kayaking
Wake Park
and many more…
If water sports is not your kind of thing, we too have got "vehicles" (motorised & non-motorised) for you to ride around the property. Some of them include:
No matter which resort you are staying when you are in Bintan, it's definitely worth a visit to spend a day enjoying the beautiful scenery and exciting recreation activities in Treasure Bay!
*The above list is only what we are bringing into Treasure Bay in this first Phase. There are many more activities and exciting sports that will be coming to you in the coming years, talk to us to find out more. We have featured some of those in the description of each activities in the details page.