Sports Water Park 
This inflatable structure requires about 20 – 30 obstacles that would be connected together. It would be the main highlight for crystal lagoon. Spanning about 40 x 30m, this piece would form as Asia's next play area for years to come. The flexibility of choice is in your hands whether it's a sporting competition, teambuilding or just a place for everyone to hang out on. Soak up the sun on the inflatable structures while the kids play.  A place for anything, everyone, any time.
Stand Up Paddle
A stand up paddle is a type of paddle used in stand up paddle surfing. The stand up paddle is used to propel an individual across the surface of the water while standing on a surfboard. The paddle consists of a blade, shaft and handle. The uniqueness of the activity complements any tourist, visitor or child keen on trying out an easy watersport. The imagination of travelling on water at your own pace in crystal clear waters is a dream made possible in Treasure Bay Crystal Lagoon.
Inflatable Kayaks
The AdvancedFrame® is a hybrid of a folding frame kayak and an inflatable kayak. Its bow slices through water like a knife and rivals the trackability of hard-shell kayaks. The stern acts as a skeg, increasing the tracking performance. It uses extremely durable materials and high-end components. There is plenty of on-board storage room for extended trips in and out of crystal lagoon. It sets up in just a few minutes and is compact enough to take along on a weekend adventure. A definite must have for anyone wanting to take on the sport.
Water ZOVB
Water ZOVBing is quickly gaining exposure in much of Indonesia. Already a hit in Singapore, this water-walking feat would definitely fill in excitement for the young and old.  Seeing an inflatable clear ball on clear water will draw the attention to anyone within distance. Don't miss this out this crowd drawing feature.
Water Bumper Cars
Get ready for fun in the sun with a motorized bumper boat. The Inflatable pool gear features motorized motion operated by a sleek black and yellow wheel.
Bumper boats feature a water cannon that comes in Elegant silver and black color scheme Comes with an easy-to-use foot pump. Cruise the pool going forward, backward, left and right. Bumper Boat is easy to put together, easy to control, but hard to get out of once the fun has begun. Large, comfortable design everyone will love. Quiet, single motor with one button accelerator makes movement easy. Have fun while sipping a glass of gin.
Aqua Glide Sailing
Another feature to add to the shop is our Aqua Glide Inflatable Sail. The 1-3 person inflatable sailboat, converts to windsurfer, kayak and towable. The Multisport™ is a totally unique way to get out on the water! This compact inflatable boat sets up in minutes and converts easily from sailboat to windsurfer, and even makes a great towable for up to two riders. Add the optional Kayak Kit and the Multisport 270 can be used as a stable kayak or small tender. Ideal for learning to sail or simply enjoying a warm summer day. Comfortably fits 1-3 people.
Jetovator – Ride the Hose with Jet Ski
The Jetovator is a water sports accessory that extends the ability of an existing personal watercraft (PWC). The Jetovator redirects the water thrust from the jet unit of the PWC along a forty foot hose to the Jetovator body. This water thrust is then used to propel and elevate the Jetovator into the air. The rider can also redirect the water thrust of the two front nozzles in order to maneuver the Jetovator in all directions. Lessons are available for basic, intermediate and advance riders. Group Classes are available on site and corporate groups looking to utilize this piece are at disposal depending on request and experience to boost their experience.
Water Tricycle
Water Tricycles are an adventure on the water for all ages. Their innovative design and durable materials allow Water Tricycles to traverse lakes, rivers and beaches with ease. Water sports locations rate at the top of their paddle boat rental list. Adults and children alike enjoy the safe, smooth ride of Aqua-Cycle Water Tricycles at hotels and resorts, water sports rentals and other popular vacation spots. Three wheels, wide paddles and flexible steering make Aqua-Cycle Water Tricycles easy to ride with stability and smooth maneuverability.  Using them is intuitive, with no special lessons or extra equipment necessary.
SEADOO Underwater Scooter
This package deal brings snorkeling to new level. Enjoy a day out with the scooter as you dive your way around the lagoon. It doesn't need you to fin but with a squeeze of a button, the scooter will propel you on the water or dive into the blues. Comes with snorkel equipment.
Paddle Go Kart *coming soon*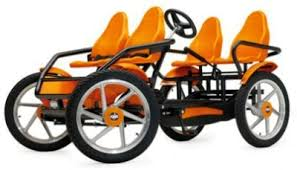 The pedal go-karts are fun for children, adults and families. These go-karts are safe, durable and require little maintenance. This product provides unlimited pleasures. Go Kart rents out four-wheeled carts that are available in one or two seater variants. Go pedalling together around the tracks at Crystal lagoon.
Long Boarding with Kahuna Stick *coming soon*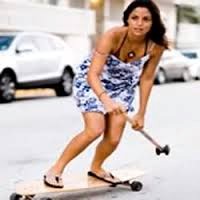 Longboarding is the act of riding on a longboard skateboard. A longboard is greater in size (both length and width) than its smaller counterpart, the skateboard, and has more stability, traction and durability due to lower wheel durometers. The angles at which some longboards can turn, as well as their ability to coast long distances make them more suitable for cruising on streets than regular skateboards. Land Paddling is the use of a long pole or stick while longboarding. The stick is used to propel the longboarder further without pumping. The stick also maintains balance and can be used as a brake.
Trikke Bike *coming soon*
The Trikke is a three wheeled scooter-like vehicle designed and marketed by Trikke Tech Inc. The patented cambering mechanism allows the rider to propel this chain-less and pedal-less human-powered vehicle without ever touching foot to ground. The design provides a stable 3-point platform that lets riders lean into the turns while all three wheels remain in contact with the ground.
*This list is not comprehensive. Check back for more activities to be included.*